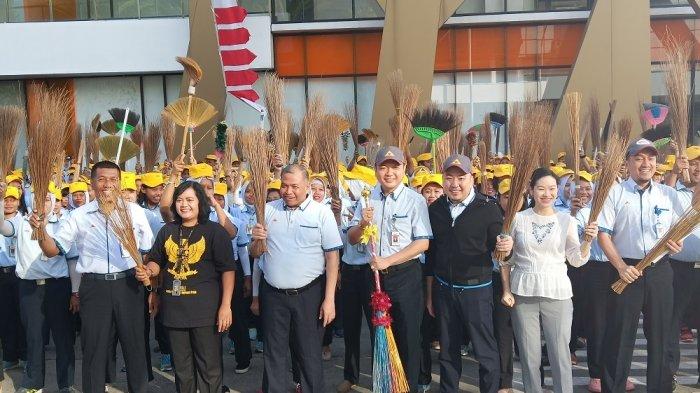 Mass Cleaning with 38.000 of Employees, PT. Sritex Trying to Break the 9th MURI Record
TRIBUNSOLO.COM, SUKOHARJO – In welcoming the 53rd Anniversary of PT. Sritex and Indonesia's 74th Independence Day, PT. Sritex Isman Tbk will again break the MURI record. This year, the MURI record that PT. Sritex trying to break, they involving 38 thousand employees from PT. Sritex group. This morning they cleared several public places in seven locations in Sukoharjo Regency, Friday (9/8/2019).
President Director of PT. Sritex, Iwan Setiawan Lukminto said that every year PT. Sritex wants to set a new record. "We have quite a lot of employees, and they are also involved in the process of MURI record-breaking by PT. Sritex," he said. Currently PT. Sritex has collected eight awards from the Indonesian World Record Museum. If this mass cleaning activity breaks the record, it will be a special gift for the 53rd Anniversary of PT. Sritex, and become the ninth record for  PT. Sritex.
According to Muri's Senior Record Manager, Sri Widayati, this activity categorized in the biggest cleaning movement in one company "If so far we have recorded community service activities by the general public, both cleaning the environment, the longest river, and so on," she said. She hoped that the activities carried out by PT. Sritex can be a pioneer for other companies, to protect the company's environment and surroundings. If this mass cleaning activity by employees of one company managed to break the record, according to Sri it would be the 9th record of PT. Sritex.