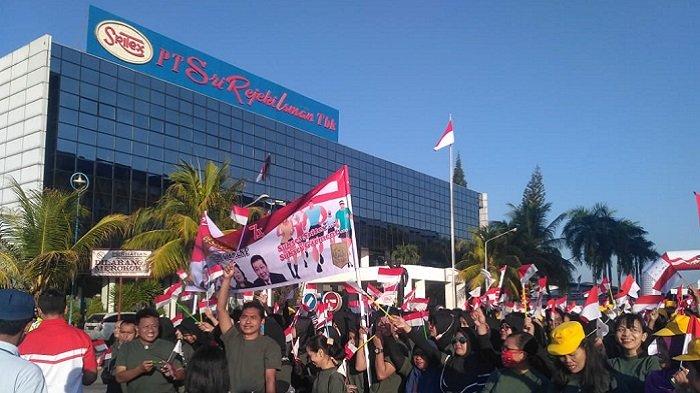 6000 Sritex Employees Join the Healthy Walk to Commemorate the Republic of Indonesia Anniversary and Sritex Anniversary
TRIBUNSOLO.COM, SUKOHARJO – 6 thousand PT Sritex employees participated in a walking event to commemorate the 74th Anniversary of the Republic of Indonesia (RI). The employees, including the company leader, Iwan Setiawan Lukminto gathered at the Sritex Sukoharjo Factory yard, Sunday (4/8/2019) morning. At around 6:30 a.m., they started a healthy walk around the factory area with a distance of about 8 km.
"Activities with the employees in order to celebrate the Sritex and the Republic of Indonesia Anniversary."
"We celebrate with a great sense of togetherness between us and employees," said Iwan.
The 53rd Anniversary of Sritex and the 74th Anniversary of RI are 'Stability and Glorious Hope', which is a prayer and working spirit for Sritex Group. Sritex Group has 14 companies scattered throughout Indonesia, especially in Central Java and Yogyakarta, with more than 50,000 employees.
In this anniversary event, Sritex always involves employees from the entire group, with various sports and CSR activities of the company. "In addition to a series of sporting events between employees, there is also CSR for the community," he said. Despite internal activities, the Sritex healthy walk was held quite lively. The finish at the Sandang Sejahtera Sritex field was welcomed by dangdut music and a raffle with hundreds of prizes, with the grand prize of a motorcycle and electronic goods.